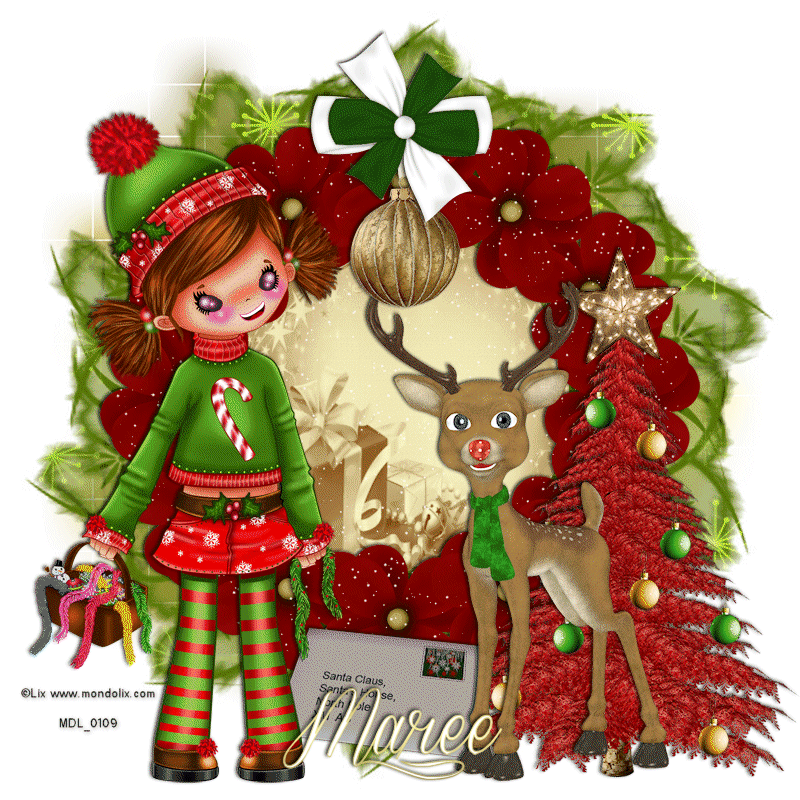 This was created using PSP X3
it can be recreated in any version.
PTU Santa Is Coming kit by Kims Korner
Artwork of ©LIX you can purchase tube
Here
.
You will need a license to use this artwork.
Font of Choice
New transparent raster layer 800 x 800
You can resize or crop later.
New raster layer select all.
Open kk_SCIC_Paper23 copy paste into selection.
Deselect then apply mask merge group.
Click inside mask selections Modify Expand by 10.
Add a new raster layer
Open kk_SCIC_Paper14 copy paste into selection, then deselect.
Select kk_SCIC_Frame01 copy paste as new layer.
Use the Selection Tool-change to circle draw out to the edge of frame.
Add three new layers rename Snow 1, 2 and 3.Click on Snow1.
Then apply these setting using VDL Adrenaline-Snowflakes.
Move the slide on Random button for these layers
Snow2-5
Snow3-10
Then deselect.
Add your tube resize if needed move to left of layer.
Give a light Drop Shadow
Select kk_SCIC_bow02 drag to top of frame resize.
move to center top.
Select kk_SCIC_ornament01 copy paste resize as needed
drag below bow layer.
Select kk_SCIC_lettertoSanta copy paste move to bottom of frame resize.
Select kk_SCIC_tree01 copy paste move to right of layer.
Select kk_SCIC_rudolph02 copy paste move to right resize as needed.
Give your layers a light drop shadow.
Add your name and Artist copyright.
Continue on to animating your tag.
Animation
Open Animation shop then click back to Psp
Close out layers snow 2 & 3.
Edit Copy Special-copy merged.
Click into AS Paste as new animation.
Repeat for layers snow 2 & 3
pasting after Current frame.
Check your animation if happy then
resize your animation save as a Gif.
Thank you for trying my tutorial, I hope you enjoyed it.
I'd love to see your results so that I can show them on my Blog.
Tutorial by © Maree *(DesignsbyFalcon) November 2012.